Friday, 28 September 2012 03:18
Shaming your dog
Written by Layne Cope
You gotta love your dog...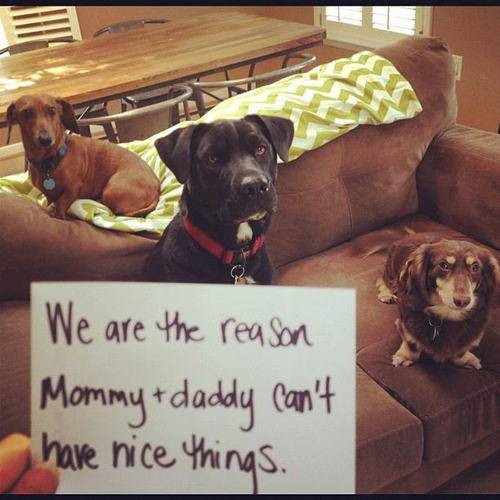 Dogs, they are happy to see you when you come home from work. They will willingly give you kisses and love when you need kisses and love, BUT, boy they can have a naughty streak!
When we lived in Alabama we had a doberman pinscher named "Makeba". She had a brother, a black cat named "Bart", who thought he was a doberman pinscher. They did most everything together when they were both in the house. Makeba had a particular love for Bart's special treats; tootsie rolls in his special box. Well I had caught her indulging several times and had chastized her letting her know how bad that was and tried different things to prevent her from getting to the nuggets but had little success.
One night after we had gone to bed, I heard a familiar "crunch crunch crunch" coming from the direction of the "treat" box. I yelled out, "Makeba, get out of the litter box!" and the house got quiet. As I drifted toward sleep, I had a sudden feeling of being watched and opened my eyes. There in the darkness sat Makeba. When she saw my eyes open, she gave me a kiss right in the mouth. Yeah, you guessed it. A mouth full of gritty kitty litter (to say the least). I probably brushed my teeth ten more times that night...
Yeah. You gotta love your dog(s)!
Thanks to Penny for the pics!
I am a geek. A Windows geek to be exact. I do all things computer. I do like outdoor activities; camping, fishing, riding my hawg, etc. but I always gravitate back to the computer. In fact, between work, the biz and other stuff, if I am not on the 'puter for 14 - 16 hours a day, I feel deprived!
Latest from Layne Cope